Solution Partners
Meetio
Meetio is a dynamic and innovative brand that specializes in creating workplace solutions. With a keen focus on enhancing productivity and fostering collaboration, Meetio offers a range of intelligent meeting room booking systems and digital signage solutions. Their sleek and intuitive designs seamlessly integrate with existing office environments, providing a seamless experience for employees and visitors alike. Meetio's commitment to user-centric design and technological advancements sets them apart in the industry, empowering organizations to optimize their meeting spaces and streamline communication. Whether it's optimizing room utilization, simplifying booking processes, or enhancing workplace efficiency, Meetio is at the forefront of transforming the way businesses operate and collaborate.
Make Your Modern Workplace Effecient & Smarter!
Transform your workplace with Meetio's innovative features, user-friendly interface, and intelligent analytics. Simplify meeting management by seamlessly integrating with calendar systems and room displays. Make informed decisions on resource allocation with valuable insights into meeting patterns and room utilization. Enhance productivity by effectively utilizing meeting rooms with advanced occupancy sensors and real-time data. Revolutionize your workplace for a smarter and streamlined environment.
Easy to use
Our primary focus is always on the end user. Making our products user-friendly and simple is not only at the core of what we offer, but it also serves as the very foundation of our entire approach.
Hassle-free
Say goodbye to the frustration and time-consuming struggle of scheduling and managing meeting rooms and resources in your office. We are here to make it hassle-free for you.
Efficient
No need to waste time searching for available space or disturbing your colleagues. Let us assist you in finding the perfect space that suits your needs, whether it's based on the number of seats or the equipment available in the room.
Easy administration
Effortlessly manage all your Meetio devices, no matter where you are, with our user-friendly central administration portal designed for enterprise-grade use.


Workplace insights
Gain valuable insights into the utilization of your office resources. Say goodbye to uncertainty and take charge of planning and designing your workplace based on actual usage patterns.
Meetio Desk
Activity-based and flexible working are increasingly popular in modern workplaces. As a result, the demand for bookable workspaces has dramatically risen. Meetio Desk is a cloud-based service that simplifies the management and scheduling of physical desks and other workspaces in your office, whether you're on-site or using your phone. Experience the ease of hot-desking with Meetio Desk!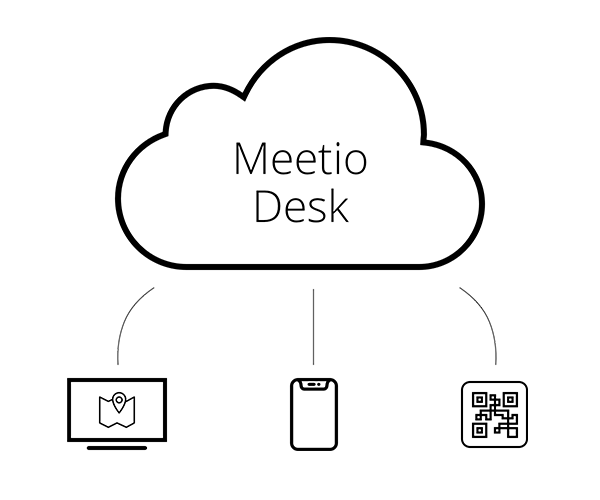 How Does It Work?
Experience the power of Meetio Desk, the ultimate cloud service for seamlessly managing and booking physical desks in your workplace. Our innovative virtual desk solution operates in the cloud, seamlessly integrating with the Meetio app and Meetio View maps. Booking desks is a breeze through our user-friendly app, and confirming your reservation is as simple as a quick scan with our built-in QR-reader. Once checked in, your booking will be displayed on the app's map or your Meetio View maps. With everything connected through the cloud, the possibilities are endless.
Meetio Room
Introducing Meetio Room, the innovative solution for booking meeting rooms that boosts productivity and streamlines reservations. Its user-friendly interface and intuitive features make finding and reserving available spaces a breeze. Stay up-to-date with real-time room availability, efficiently schedule meetings, and seamlessly sync bookings across all devices. With its sleek design and customizable display options, Meetio Room adds style to any office environment. Whether a small team or large organization, Meetio Room offers a hassle-free solution for managing and optimizing meeting room usage.
Simple to use
Effortlessly manage your meeting rooms with our intuitive traffic light system that eliminates any confusion. Reserve a meeting room in just two clicks or conveniently book using RFID or NFC technology.
Scheduling on the go
Plan meetings, discover and reserve meeting rooms and other spaces – even when you're away from your workplace. Meetio Room is integrated with our app, offering you complete scheduling adaptability right at your fingertips.
Saves time and space
Maximize your productivity and make the most of your valuable time and office spaces. Bid farewell to the inconvenience of stolen rooms, disrupted meetings, and empty spaces caused by no-shows. Say hello to seamless workdays filled with more effective meetings and heightened productivity!
Makes your workplace smart
Do you often find yourself wishing for more meeting rooms? Meetio Room provides valuable insights into booking behavior and the true utilization of your meeting spaces. Utilize this data to enhance functionality and optimize your office environment.


Meetio View
Introducing Meetio View, a revolutionary workspace management solution that simplifies booking and optimizes resource allocation for meeting rooms. Its sleek interface offers real-time availability and booking information, empowering employees to efficiently schedule and make the most of available spaces. Seamlessly integrating with existing calendars, Meetio View allows users to effortlessly reserve rooms and access essential details. Experience transformative collaboration and enhanced productivity with Meetio View's remarkable design and powerful functionality.
Learn More About Meetio
If you would like to learn more about how Meetio solutions are the right fit for your meeting rooms and office workspace, please get in touch with us.