Solution Partners
Logitech
Logitech is a leading global provider of video conferencing solutions and diverse range of computer peripherals and accessories. Logitech's sleek and ergonomic designs, cutting-edge technology, and seamless integration with various platforms. Whether it's enhancing productivity, improving gaming performance, or elevating video conferencing experiences, Logitech continues to deliver reliable and user-friendly solutions that cater to the evolving needs of its customers.
Logitech Video Conferencing
Logitech video conferencing systems make it easier than ever to connect with colleagues, clients, and partners around the globe. Whether it's a small huddle room or a large conference hall, Logitech offers a range of products to suit different needs, including webcams, speakerphones, docks, and conference cameras. Their advanced audio and video capabilities ensure crystal-clear communication, while intuitive controls and compatibility with popular video conferencing platforms make setup and operation a breeze.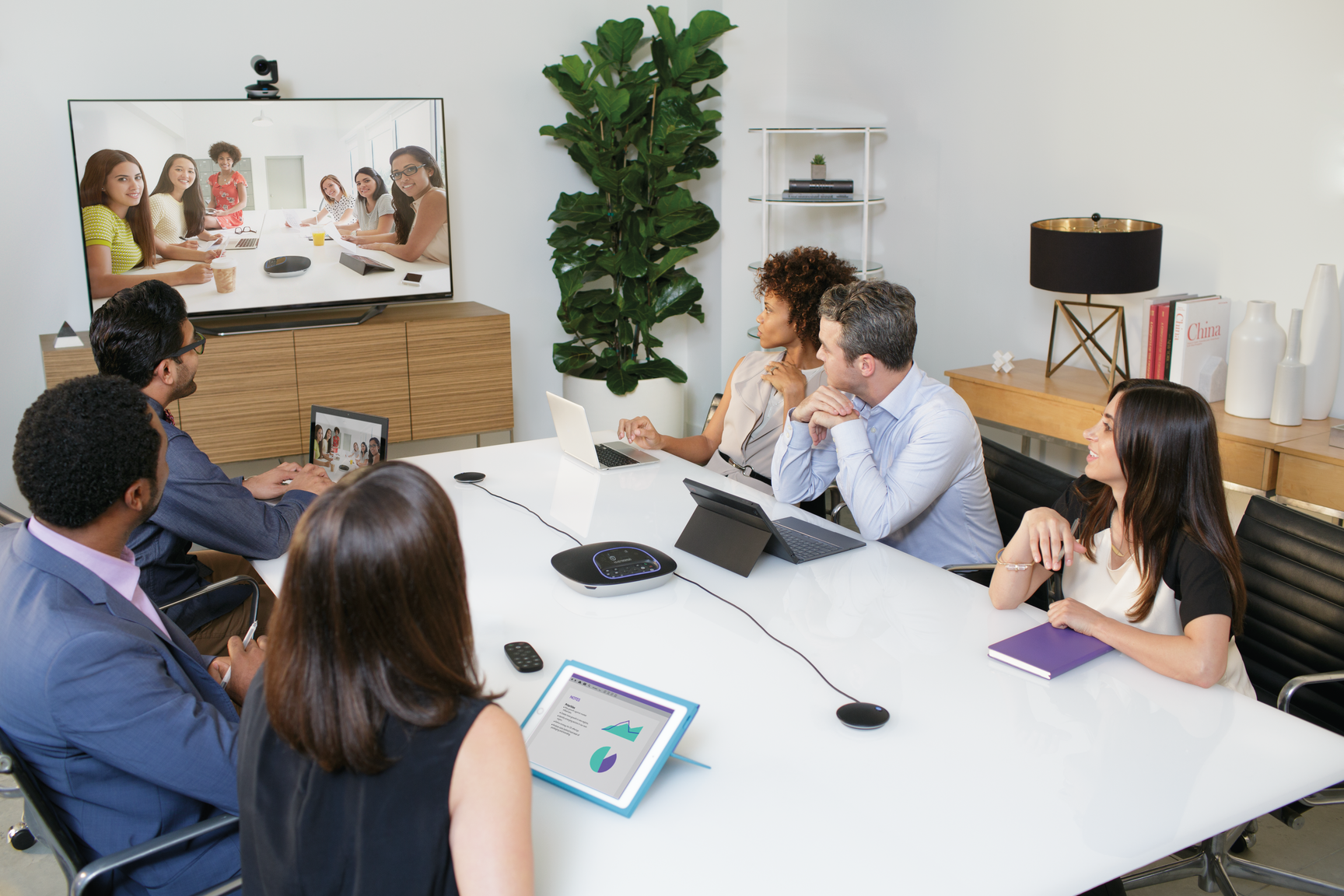 Logitech Video Conferencing Solutions
Logitech Rally Bar
The RightSight 2 auto-framing technology and a dual-camera setup in Rally Bar enable remote participants to join in on the discussion. Select Speaker View to highlight the active speaker, Grid View to reduce white space and frame each individual in their own stream, or Group View to include everyone in the room.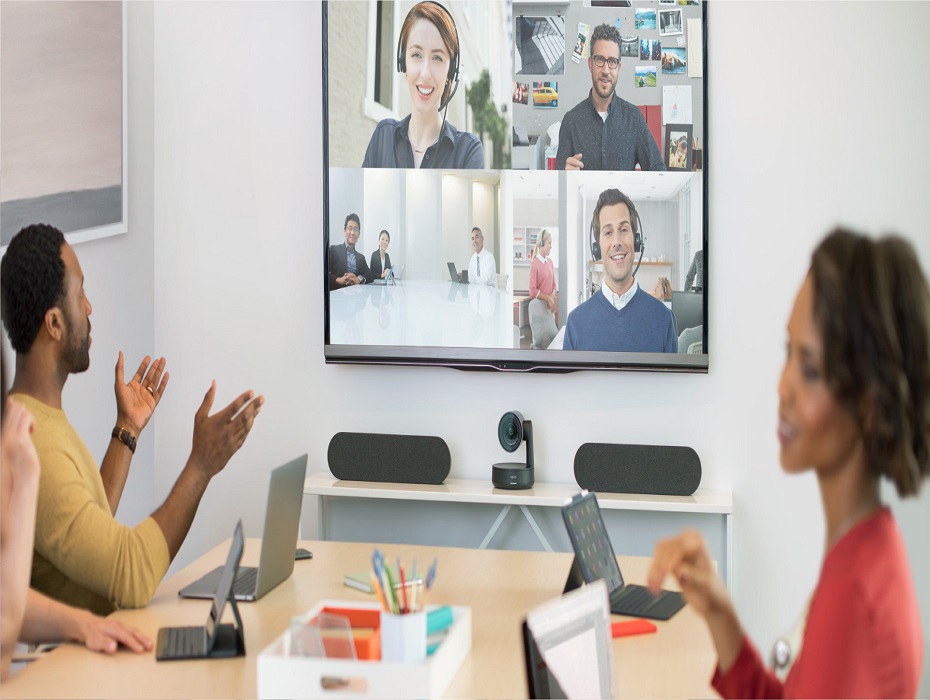 Logitech Rally Bar Mini
It's remarkably simple to use, manage, and deploy at scale, delivering the capabilities of larger video bars like Logitech Rally Bar in a compact form factor for smaller spaces. With studio-quality audio and video, motorized pan and tilt, and AI-powered performance, Rally Bar Mini sets new standards for video collaboration.
Logitech Scribe
With Logitech Scribe, an AI-powered whiteboard camera for Microsoft Teams Rooms, Zoom Rooms, and other top video conferencing services, you can easily share whiteboards into video meetings.
High-quality video
Logitech video conferencing systems often provide high-definition video capabilities, offering clear and sharp visuals during meetings.
Wide-angle lens
Many Logitech cameras come with a wide-angle lens that allows you to capture a broader view of the meeting room, ensuring everyone is visible on the screen.
Autofocus and auto light correction
Logitech cameras typically feature autofocus capabilities, which ensure that the participants remain in focus even when they move around. Additionally, auto light correction adjusts the camera settings to provide optimal video quality in different lighting conditions.
Plug-and-play setup
Logitech aims for user-friendly experiences, and their video conferencing systems are usually designed for easy installation and use. Plug-and-play functionality allows quick setup and compatibility with various conferencing platforms.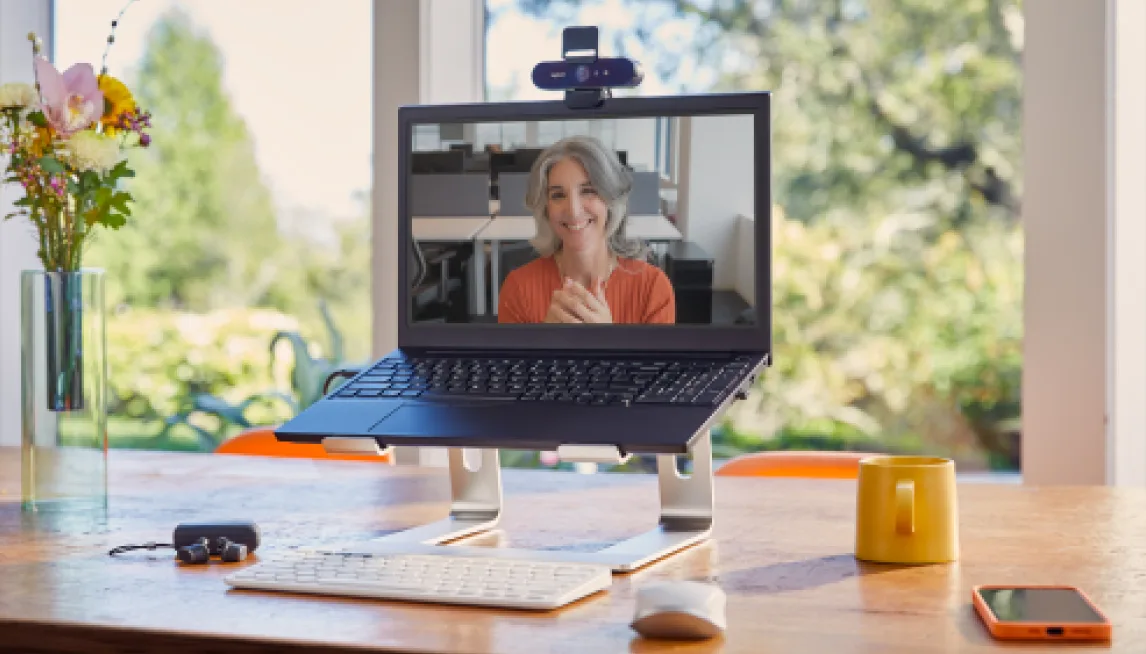 Logitech Personal Workspace Solutions
Desk solutions that work on any platform, are easy to set-up, and easier to use may it be at home, office or on the go! Helps the work get done better with everyday desk solutions with exceptional design. Optimized for security, comfort, performance, and more.
Give your team the award-winning, beautifully designed peripherals for everyone at work, home, and school. Improve performance, comfort, and style while decluttering your desk, home, and office with our range of docking stations, webcams, headsets, keyboard & mice.
Logitech Video Conferencing Systems
Logitech Webcams
Logitech webcams provide immediate cooperation with HD video of the highest quality and are made to function with any VC software.
Logitech Headsets
Logitech headsets are stylish and affordable, and they are built for all-day comfort to increase the effectiveness of every call.
Logitech Docks
The all-in-one docking station Logi Dock makes setting up a home office easier, clears up desktop clutter, and boosts remote employees' feelings of productivity.
Logitech Personal Workspace Prodcuts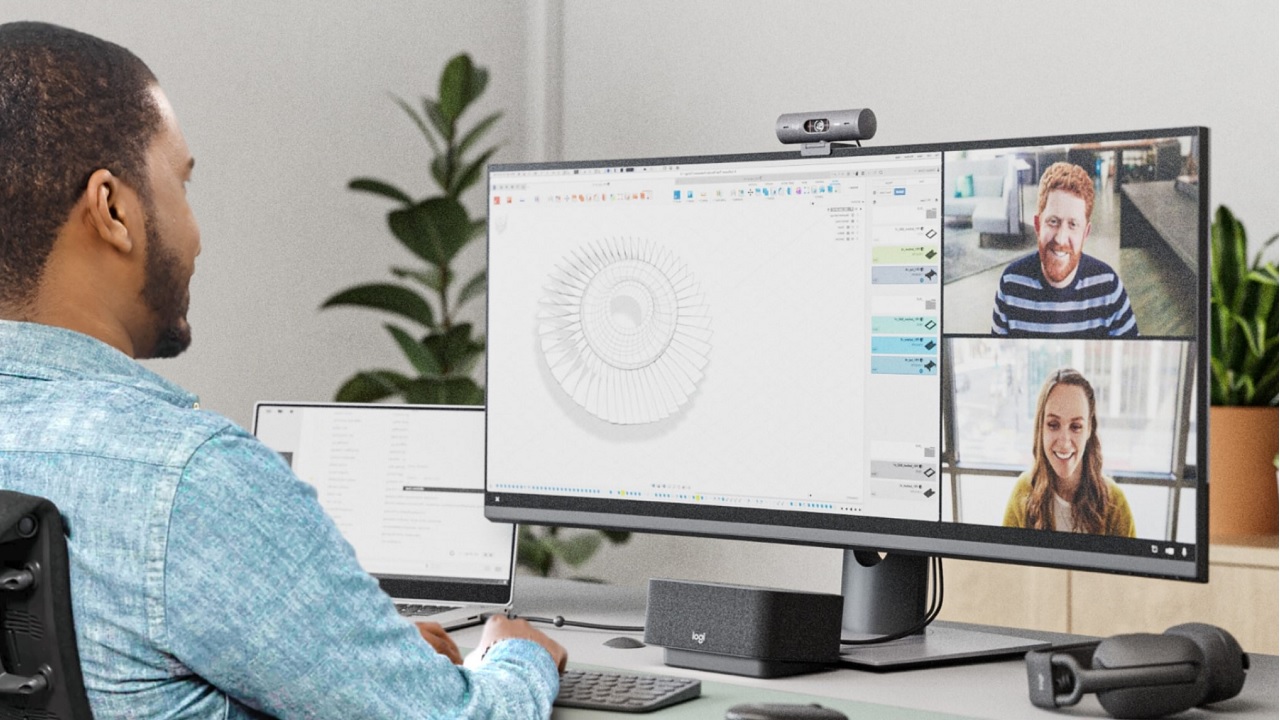 Logitech Brio 505
Brio 505 RightLight 4 intelligently adjusts to any illumination, making users appear natural-looking even in dim circumstances. Everyone can be seen clearly thanks to Full HD 1080p resolution and AI-based face image correction.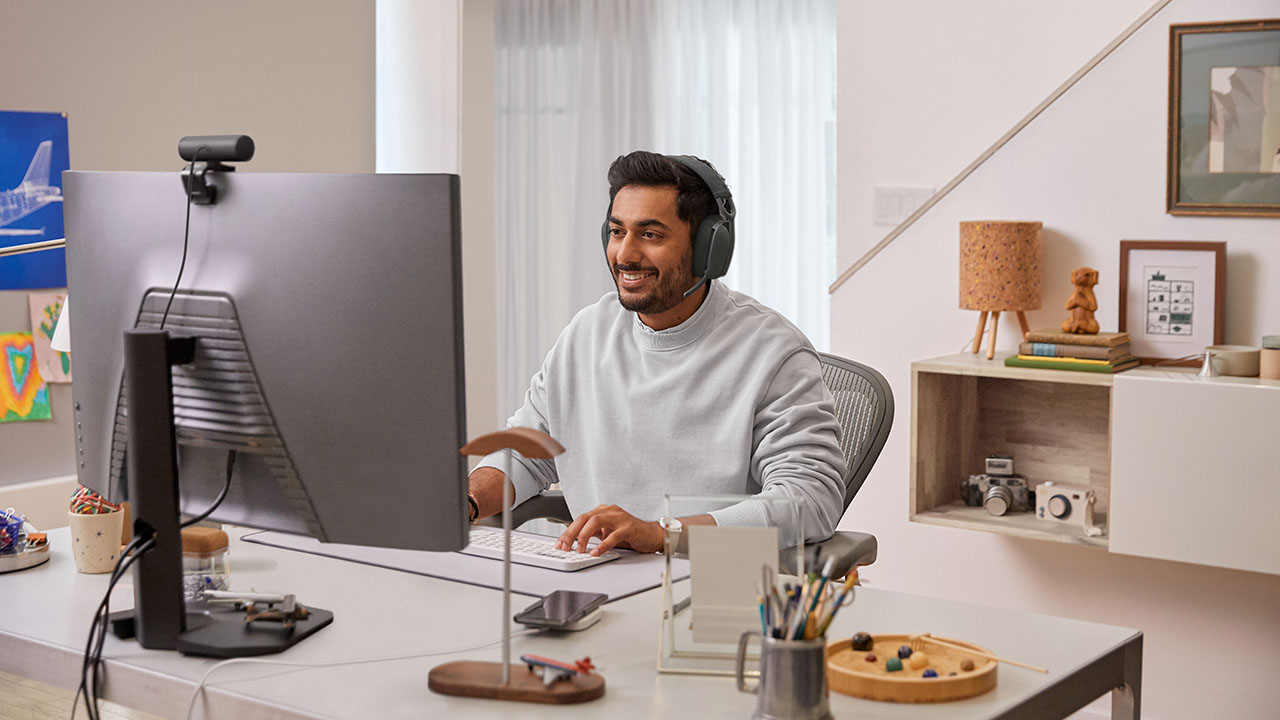 Logitech Zone Vibe Wireless
Bluetooth and USB receiver-equipped over-the-ear headphones. A business certification that is ideal for hybrid employment. Designed for modern workers who prefer an over-the-ear headset with business-grade features. works flawlessly with the majority of video meeting platforms.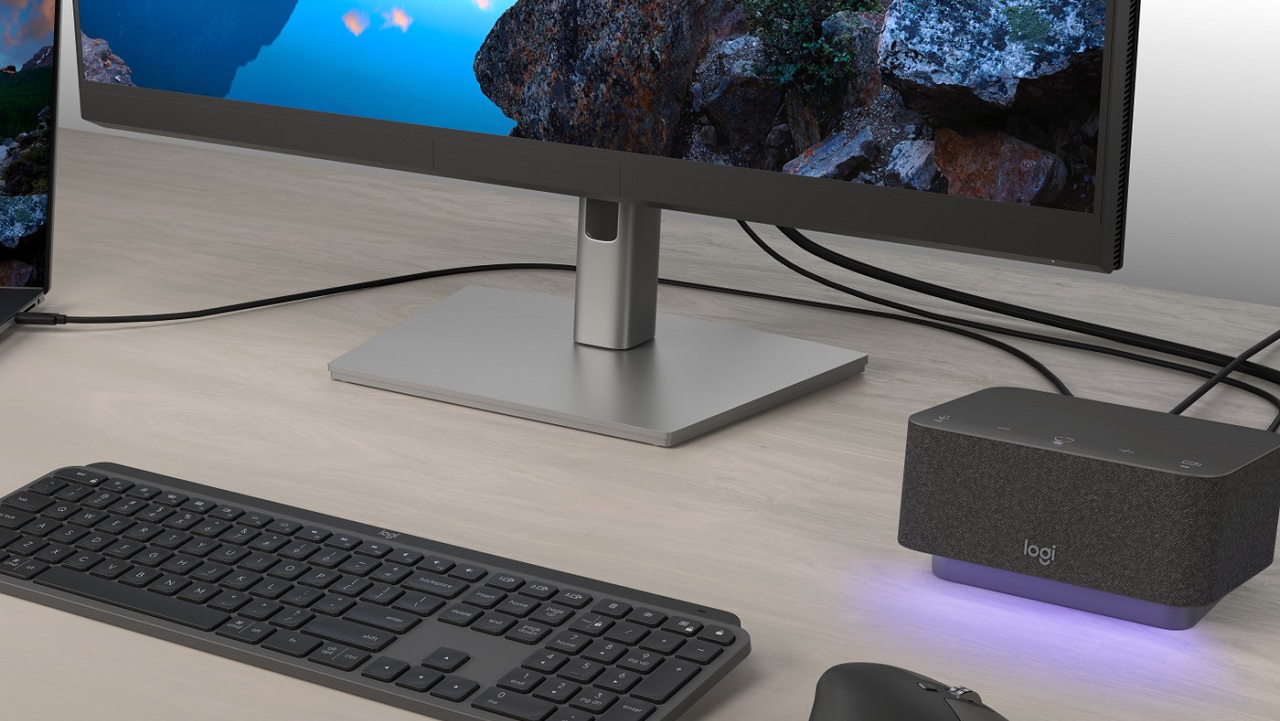 Logi Dock
The all-in-one docking station Logi Dock makes setting up a home office easier, clears up desktop clutter, and boosts remote employees' feelings of productivity. The easy-to-use Logi Dock connects everything in one neat unit, eliminating the need for additional peripherals and the mess of connections and wires. It is certified for use with the top video conferencing systems.
Logitech Team Workspace Solutions
Empower everyone to be seen and heard from anywhere with solutions designed to make creativity and collaboration easy. Make meetings worthwhile. Outfit conference rooms of all sizes with high quality cameras, audio, whiteboards, and more.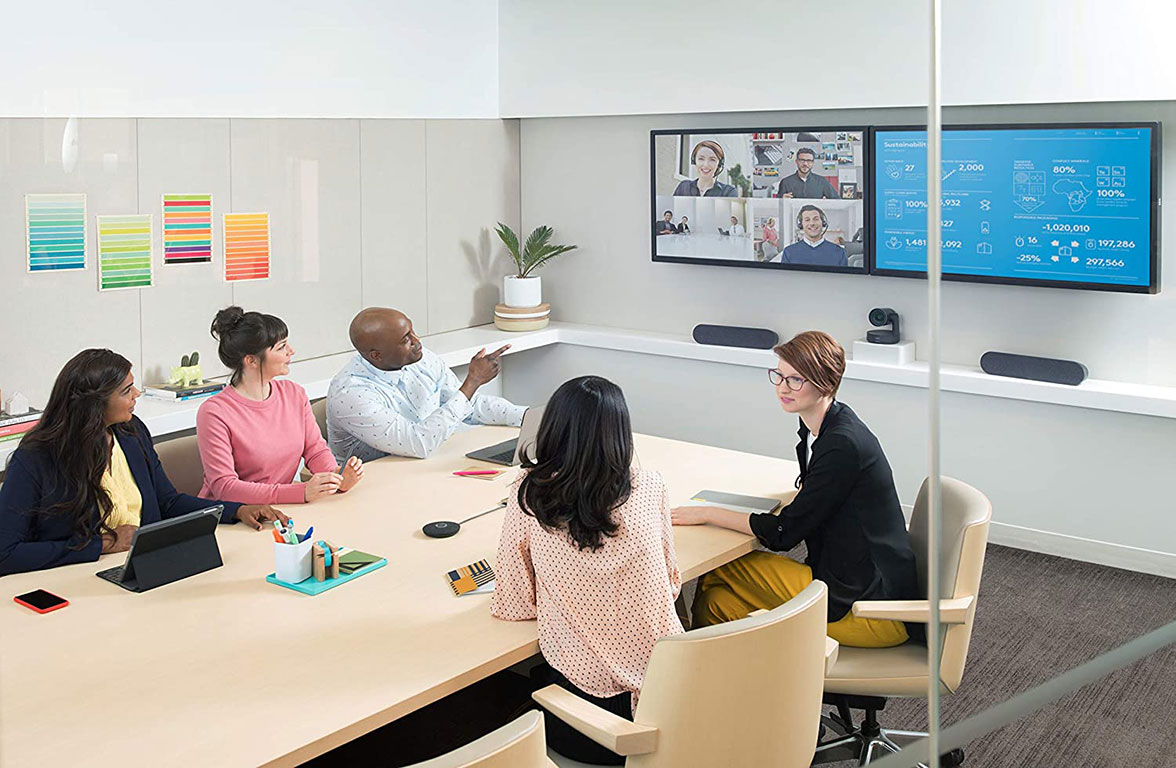 Rightsight View Modes
With Speaker View and Grid View modes, you may choose a better video experience for distant workers to better focus, frame, and follow meeting room participants.
Rightsound Audio
Utilize RightSound technology to better understand conversations. Reduce background noise and concentrate with astonishing clarity on active speaking.
Smart Switching
Conversations are tracked by adaptive intelligence, which provides the finest viewpoint compared to tabletop or front-of-room captures.
Commercial Enquiries? Contact Us!
If you would like to learn more about how Logitech Video Conferencing, Microsoft Teams Rooms, Zoom Rooms, Headset and Speakerphone solutions are the right fit for your meeting rooms and office workspace, please get in touch with us.